While the influencers and full-time travel adventurers we see on social media are certainly inspiring, or at least fun to follow, it's good to know that people with day jobs can also travel the world. Rhaven McIver, for example, is a nurse anesthetist, who spends all her free time exploring new places in the world.
When she's not at the doctor's office, she shares her travels on Instagram and her YouTube channel, 'Time With Rhay', in hopes of encouraging people of all kinds to get out and explore. .
"I've been nicknamed 'the trip planner' by all my friends and family," says McIver. "They know that when they travel with me, they don't have to worry about anything but having a good time. Recently, I've started planning trips for others who don't know where to start, and I'm launching my group travel business this spring!
McIver's love of travel has brought her into contact with an abundance of wonderful new people and places, and one of her favorite destinations to date is Peru. From Machu Picchu and the awe-inspiring Rainbow Mountain to mouth-watering food and vibrant culture, Mclver shares his guide to Peru and why everyone must visit below.
READ ALSO :

WHY PERU?
I chose Peru because I want to visit all the wonders of the world and that's where Machu Picchu is located, one of the seven wonders of the world. After some research, I realized there were plenty of other things to see and do in Peru, and it was also a relatively inexpensive country to visit with maximum enjoyment, which was a plus!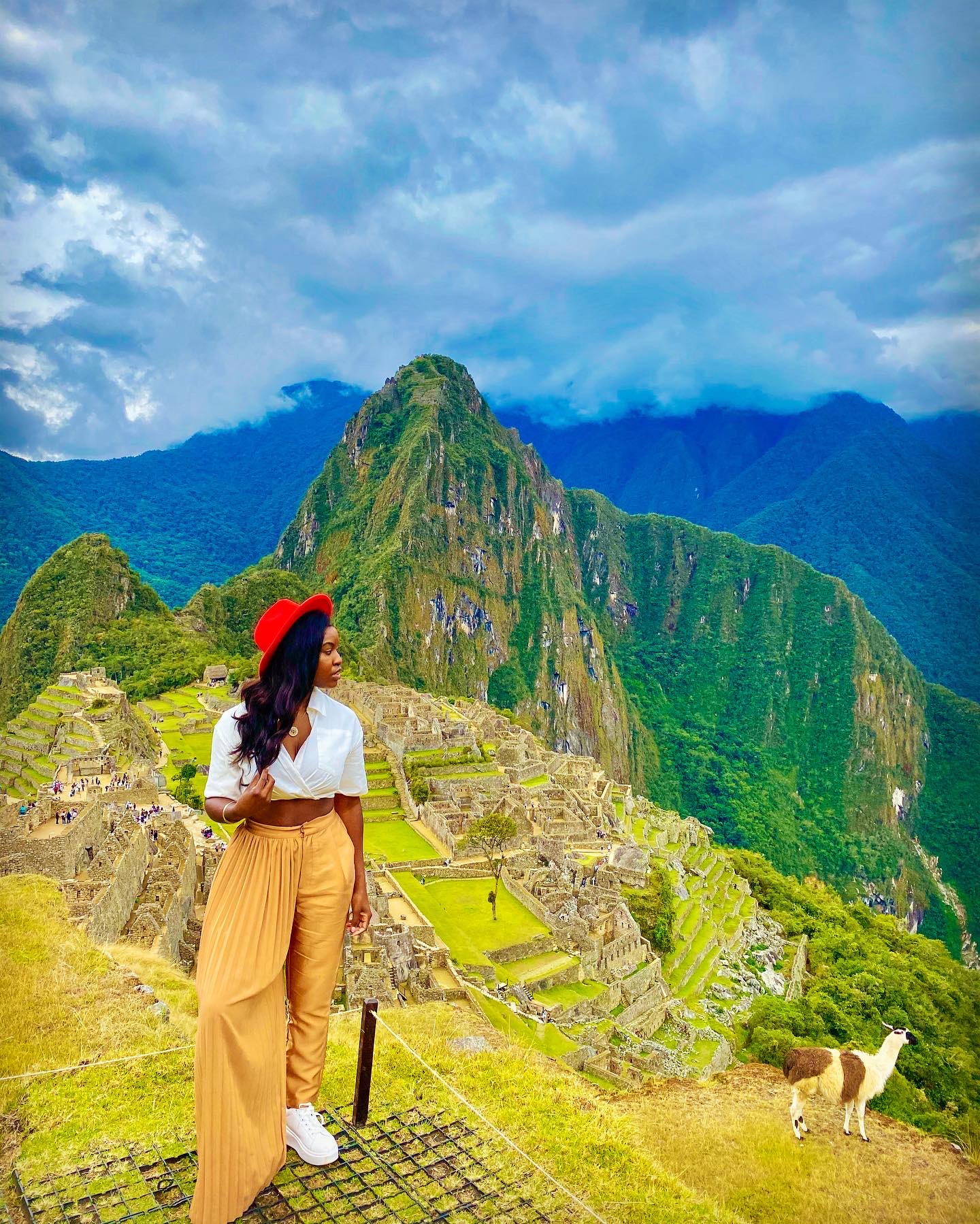 What is one thing every first-time visitor should see or do in Peru?
Well, if you go all the way to Peru, you have to see Machu Picchu! It's so amazing to see something that most of us have seen or read about in the history books. When you go there, a guide will show you around and you will learn the history behind it, which is quite amazing. You can book a trip to Machu Picchu from Cusco, which is one of the cities you will definitely want to visit there. You'll have to take a train to get there and then a bus, but don't worry, it's super scenic!
What was your absolute favorite meal of your trip?
I spent a lot of time in Cusco and my favorite dish was an iconic Peruvian dish called Lomo Saltado. It is a stir-fry that typically combines marinated sirloin strips (or other beef steaks) with onions, tomatoes, fries, and other ingredients, and is usually served with rice. I ordered this meal four times because it was so good!
As for drinks, I enjoyed the signature drink called Pisco Sour. I had never eaten pisco before my trip, but the best way to describe its taste would be a mix of wine and brandy. Two restaurants that I really enjoyed in Cusco were Inka Grill and Morena Peruvian Kitchen. I would definitely start by ordering the signature dish and drink!
What is the best Peruvian destination to spend time in nature?
I would say Cusco is a great city to visit as it is a gateway to must-see places like Machu Picchu and Rainbow Mountain. You'll get some amazing photos and views at both of these locations (you might even see an alpaca or two on your trip) and there are tons of tours to choose from. The town of Cusco itself was just a nice place to walk around and explore as well. Llamas and alpacas were everywhere, so you will definitely be able to encounter one if you wish!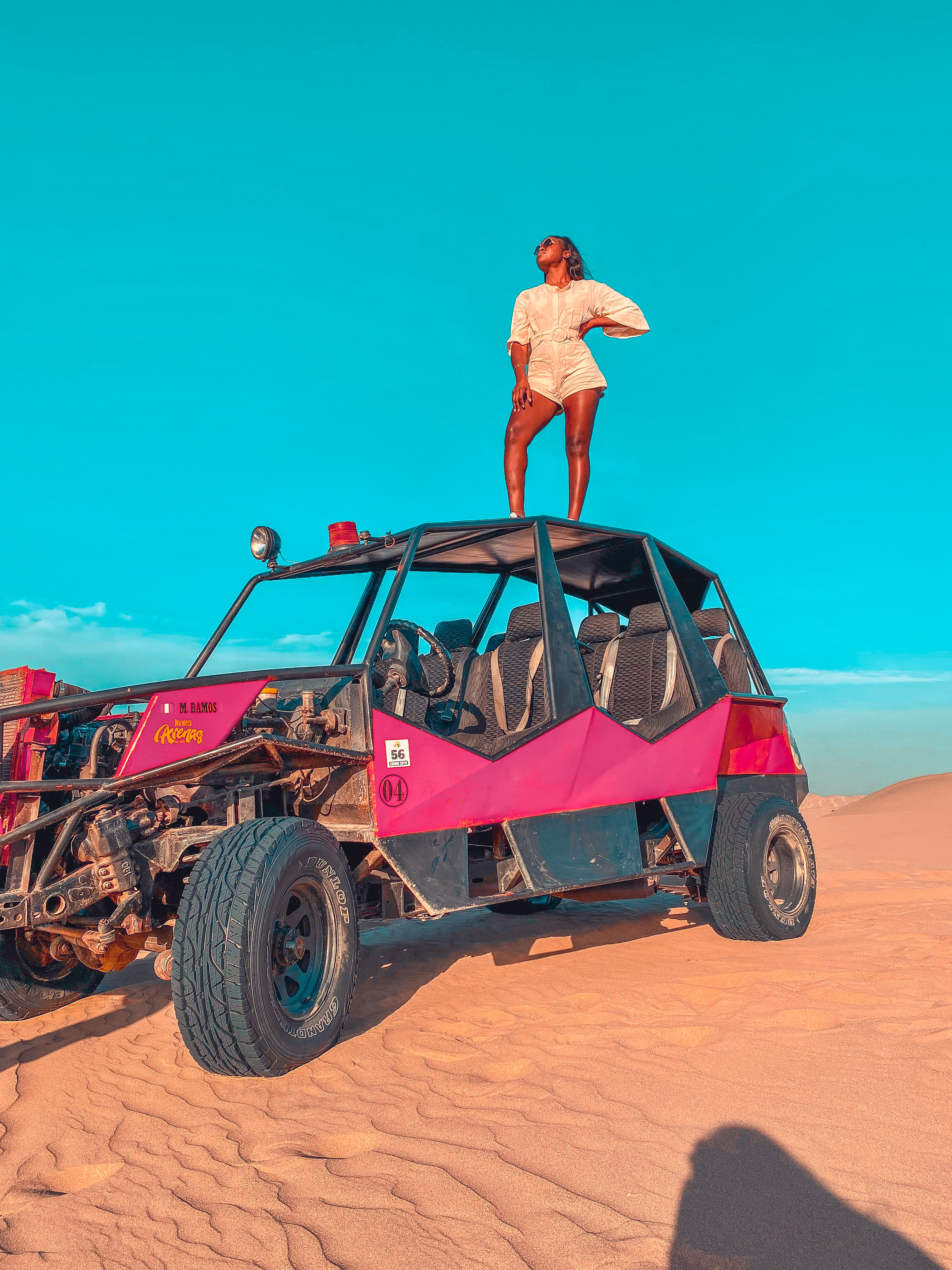 Do you have a favorite outdoor excursion or adventure activity to do in Peru?
Apart from Machu Picchu. Rainbow Mountain is a mountain that literally looks like a rainbow once at the top. You can ride a horse most of the way or walk, but either way there is a point where the horse can't go because it's too steep and you'll have to ride. The hardest part of the hike is the altitude sickness that many people experience due to the altitude. Please do not do this tour on the first day in Cusco as it takes about a day to get used to the elevation change. It is also very cold on Rainbow Mountain, so dress warmly!
Another super cool excursion was to visit Huacachina, Ica, which is a desert. On the tour I booked I went sandboarding and hiked the dunes which was great fun! I didn't know there was a desert in Peru until I booked my trip. The best way to get there is on a day trip from Lima, the capital of Peru. The tour leaves super early and comes back late at night, but it's totally worth it! I stayed in Lima for two nights specifically to do this tour and then headed to Cusco for the rest of my trip.
What's been the coolest hotel or place you've stayed?
I really enjoyed my stay at the JW Marriott El Convento in Cusco. It was a nice hotel with hospitable staff and it was walking distance to everything in town. Every morning a baby alpaca visits the hotel courtyard and you can also feed her and take pictures with her.
If you're looking for something more relaxing and even more upscale, Tambo Del Inka was a great stay. It's about an hour and fifteen minutes from the center of Cusco. They had a nice spa and pool and the lobby is beautiful. As soon as you walk in you feel relaxed and staying there at the end of an adventurous trip was all I needed.
Finally, if you're feeling daring, Sky Lodge is a very cool place to stay. They have built mini lodges on the mountainside and you have to climb to get there. The climb wasn't bad at all, but if you're afraid of heights, this isn't the stay for you. Didn't stay here but went up for lunch which is another option if you'd rather not stay the night.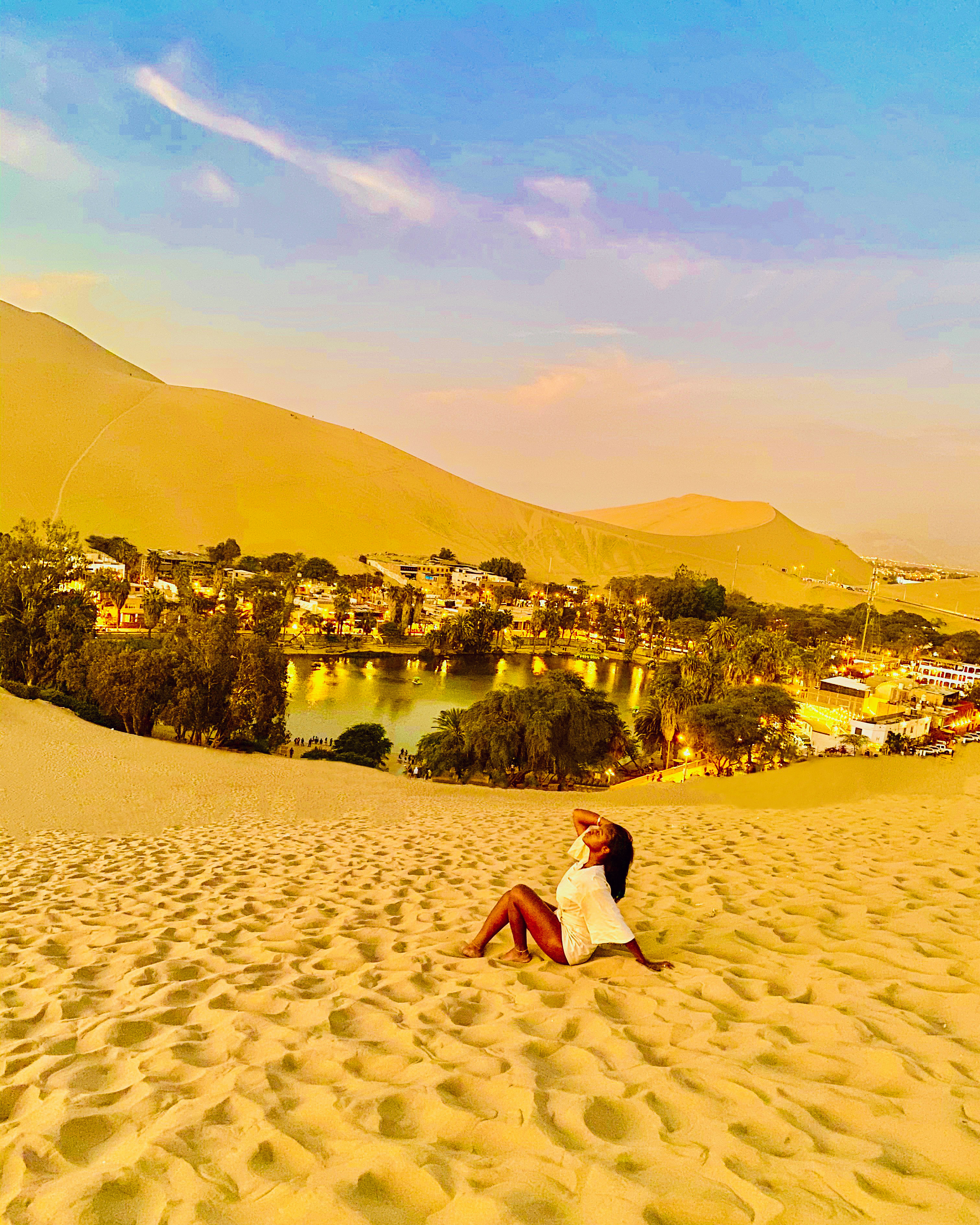 What most people don't know about Peru?
People may not know that in Cusco in particular, the altitude is much higher than most of us are used to, to the point that it can cause altitude sickness – that most people experience when visiting Cusco. Symptoms can range from mild to severe and may include nausea, headache, and feeling short of breath.
I was super exhausted my first day in Cusco and experienced altitude sickness, so I was ready to rest that first day. One remedy is coca leaf tea or coca candy which helps relieve symptoms, and you can get it anywhere in Cusco, including your hotel. Some people also buy a small canister of oxygen to relieve shortness of breath.
Best time of year to visit?
The best time to visit would be between May and October which is the dry season. I went in September and the weather ranged from 65-75 degrees (the desert was around 80-85) which was perfect.