Lake Titicaca is the main tourist destination in the Puno region of Peru and plays a prominent role in the rich and varied cultural heritage of this region.
In a video posted on its official Facebook page, the Mincetur highlighted the puma shape of the lake, in addition to its mysticism and legends, among other elements.
Titicaca is the cradle of the ancient Aymara and Andean civilization. According to a legend, the founders of the Inca Empire Manco Capac and Mama Ocllo emerged from its waters.
It is a destination of captivating scenic beauty, enormous biodiversity, as well as cultural riches supported by the Aymara and Quechua communities that reside in its surroundings.
Lake Titicaca holds Hierarchy 4, which means the highest distinction held by tourist sites in the world – a distinction also given to
Machu Picchu
the Nazca Lines, the Colca Valley and the Amazon River.
The Mincetur also reminded potential tourists that in 2021 it had granted the international Safe Travels stamp to the Puno-
Lake Titicaca
Destination. Therefore, this important area of ​​southern Peru is ready to welcome national and foreign visitors.
This lake is the main resource of the
Titicaca National Reserve
— a protected natural area that harbors great biodiversity, supports the socio-economic development of the Puno region and maintains the cultural traditions of the communities that reside in the surroundings of the highest lake in the world.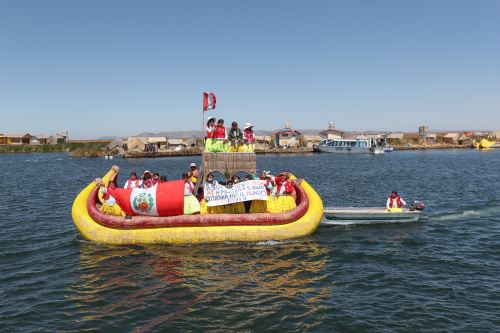 Inside the protected natural area are the ancestral use areas of 16 communities surrounding Lake Titicaca, with the presence of floating islands belonging to the Uros, Chulluni and Chimu communities, as well as the San Pedro de Ccapi-Uros Titino, whose members live on floating land. islands and devote part of their time to tourist activities.
The reserve has three community-based tourism enterprises: Uros Titino Floating Islands, Chimu Floating Islands and Yanico Birdwatching Route, which carried out their work with the official support of the protected natural area administration.
(END) MAO/MVB